VA - We Are Resistance Against Democratic People (The W.A.R. Has Begun) (2016)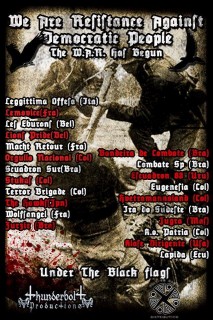 KULT TO DAATH DISTRO (COLOMBIA) & THUNDERBOLT RECORDS (POLAND) PROUDLY PRESENT:
WE ARE RESISTANCE AGAINST DEMOCRATIC PEOPLE (THE WAR HAS BEGUN)
THE FIRST RAC COMPILATION AROUND THE WORLD!
FEATURING:
KLASE DIRIGENTE - USA
EUGENESIA - COLOMBIA
ORGULLO NACIONAL - COLOMBIA
HVETREMANNALAND - COLOMBIA
STUKAS - COLOMBIA
TERROR BRIGADE - COLOMBIA
KO PATRIA - COLOMBIA
SQUADRON SUR - ECUADOR
LAPIDA - ECUADOR
ESCUADRON 88 - URUGUAY
LEGITTIMA OFFESA - ITALY
LES EBURONS - BELGIUM
LION´S PRIDE - BELGIUM
LEMOVICE - FRANCE
MATCH RETOUR - FRANCE
WOLFSANGEL - FRANCE
ZURZIR - BRASIL
COMBATE SP - BRASIL
IRA DO SUDESTE - BRASIL
BANDEIRA DE COMBATE - BRASIL
JUGRA - MALAYSIA
THE HAWKS - JAPAN
22 BULLETS AGAINTS MODERN WORLD !
MORE INFO SOON!
Register for view download links
Information
Would you like to leave your comment? Please Login to your account to leave comments. Don't have an account? You can create a free account now.