VA - We Are Resistance Against Democratic People (The W.A.R. Has Begun) (2016)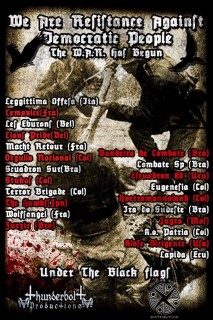 KULT TO DAATH DISTRO (COLOMBIA) & THUNDERBOLT RECORDS (POLAND) PROUDLY PRESENT:
WE ARE RESISTANCE AGAINST DEMOCRATIC PEOPLE (THE WAR HAS BEGUN)
THE FIRST RAC COMPILATION AROUND THE WORLD!
FEATURING:
KLASE DIRIGENTE - USA
EUGENESIA - COLOMBIA
ORGULLO NACIONAL - COLOMBIA
HVETREMANNALAND - COLOMBIA
STUKAS - COLOMBIA
TERROR BRIGADE - COLOMBIA
KO PATRIA - COLOMBIA
SQUADRON SUR - ECUADOR
LAPIDA - ECUADOR
ESCUADRON 88 - URUGUAY
LEGITTIMA OFFESA - ITALY
LES EBURONS - BELGIUM
LION´S PRIDE - BELGIUM
LEMOVICE - FRANCE
MATCH RETOUR - FRANCE
WOLFSANGEL - FRANCE
ZURZIR - BRASIL
COMBATE SP - BRASIL
IRA DO SUDESTE - BRASIL
BANDEIRA DE COMBATE - BRASIL
JUGRA - MALAYSIA
THE HAWKS - JAPAN
22 BULLETS AGAINTS MODERN WORLD !
MORE INFO SOON!
Register for view download links
Information
Users of Quest are not allowed to comment this publication.