Temple Of Wotan - Book of the Aryan Tribes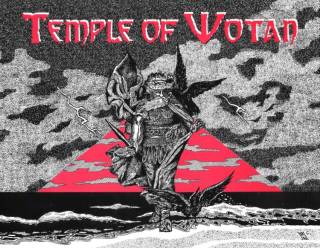 TEMPLE of WOTAN is a composite source book for the complete cycle of ritual festivals, as well as oaths, rites, rituals, runes and historical mysticism. TEMPLE of WOTAN provides the framework for families and kindreds to pursue the virtually timeless Wotanist lifestyle for coming generations. We are deeply honored for this work to have been graced with a powerful foreword by the notable and distinguished ariosophist Miguel Serrano. Now in his 80's, Mr. Serrano was a member of Jung's Hermetic Circle and himself a dedicated Wotanist, author of over forty books translated into fourteen languages. TEMPLE of WOTAN is a vital link in the eternal chain of arcane gnostic Truth.

There is a spiritual hunger in all free-thinking Aryans that cannot be filled by alien and counterfeit religions. As more people witness the inevitable decline of our race and our culture and our societies, they will and must seek solutions. The Wotansvolk path will be an inspirational and unifying catalyst to the rectification of this decline, as well as a gateway to our most ancient and esoteric wisdom that has long been denied us. The strength of a race is fed from the roots of its indigenous religions, its mythos—its heroes and legends. Life is reduced to meaningless survival without these redeeming elements.
Register for view download links
Information
Users of Quests are not allowed to comment this publication.